Internet Explorer 11 Workaround for IACRA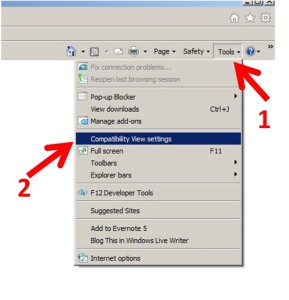 We previously posted that IACRA was not compatible with Internet Explorer version 11 (IE11), which remains true, but
there is a workaround that allows it to work.
The key is to set the FAA.gov website into IE11 as a website
that works in the compatibility mode.
Follow the following steps to make this work.
1. In the upper right corner of IE11 click the "Tools" (it may also be accessed through the little sprocket in the upper right for "settings") option.
2. This will bring up a menu, click the "Compatibility View Settings" option.
3. In the box that comes up where you can add a website,
enter into the text, "FAA.gov".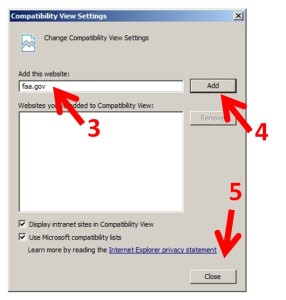 4. When you have entered the text, click the option "Add".
5. Click "Close" at the bottom right of the pop out box.
This should allow IE11 to operate all FAA.gov websites in a compatibility mode and allow IACRA to now work in Internet Explorer 11.
Thanks to Al Ayotte, a fellow examiner, who passed this fix along yesterday.